The next Samsung flagship smartphone is to set to launch at the end of February, probably at the Mobile World Congress, and should be available to purchase mid-March.
So, what can we expect from one of the biggest, most highly-anticipated mobile phone launches of 2019? Let's start with the name.
At this point, we're pretty certain that this particular device will be the next instalment in the Galaxy S line. However, later in the year Samsung could be losing the S prefix and adopting either X, F or Flex, for their foldable phablet offering.
How much will it cost? With the S9 starting £739, we should expect the S10 to cost around £839. Even with this increase, Samsung's price tags are looking far more appealing than Apple's, whose latest models teeter around the £1,000 mark.
Update
Rumour has it, there could be a fourth, super pricey, S10 model that marks the 10th anniversary of the Samsung Galaxy series. The Galaxy S10 X is speculated to be available at the end of March and will support 5G. A recent report suggests the phone could cost between £1,110-£1,250. Aside from supporting 5G, we could see features including a 6.7-inch Super AMOLED screen, a quad-lens camera on the back, super-power battery (5,000 mAh) and an AI-related 'secret weapon'. Hopefully, we'll hear more details on the 20th February.
What will it look like? It has been predicted that there will actually be 3 models: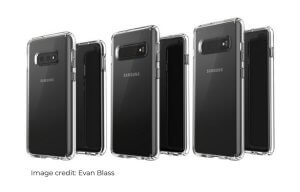 Firstly, a more affordable Galaxy S10 Lite (also tipped as Galaxy S10E), with a 5.8-inch flat display, side-positioned fingerprint scanner, dual rear camera and a single front-facing camera. Estimated RRP: £669
Secondly, a middle of the road Galaxy S10, featuring a bigger 6.1-inch curved infinity display, an in-display fingerprint scanner, a single front-facing camera and triple rear camera. Estimated RRP: £799
Lastly, the Galaxy S10 Plus, which as you would expect is the biggest of the three, with a 6.4-inch bezel-free infinity display, at least 4,000 mAh battery capacity, triple rear camera setup, dual front-facing camera and in-display fingerprint scanning. Estimated starting RRP: £899
All three models are set to be available in white, black, green and blue, with the Lite available in yellow.
How powerful will it be? With a minimum storage of 128GB and a potential maximum of 1TB using a microSD card slot, between 8-12GB of RAM depending on the model and an improved Exynos 9820/Snapdragon 855 chipset, it should be one of the most powerful smartphones of 2019.